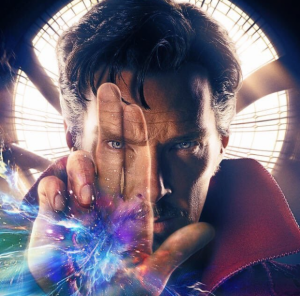 Doctor Strange looks great. The trailers make it look like it could be special and another Marvel Films Home Run. BUT, is it? That is the question I have had. Doctor Strange was a comic I found to be a great concept filled with great art when I was a kid but the stories were never enough for me. They seemed needlessly cluttered. Stories contained long monologues in giant audio and thought balloons filled with descriptions about what was going on taking up the majority of the pages. Dialogue was less conversational than I usually liked.  I did like some of the recent Dr Strange appearances written by Brian Michael Bendis and others where he mixed with the Avengers and I hoped that The Doctor Strange in those books is what we will see in the movie.
I am yet to see the movie BUT my buddy DC who talks movies with me on the Duh Media Podcasts saw it on Thursday night, His reviews are usually good enough for me. I respect what he says and has only been wrong once in all the years he's given me his opinion, So what was his opinion for the movie?
Here you go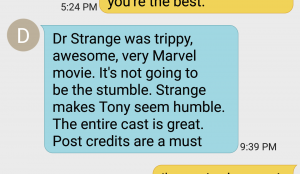 Well that's good enough for me. Lets go See Doctor Strange!!!